Suzuki GSX-R750 1989 tank 44100-18C00-9SR NOS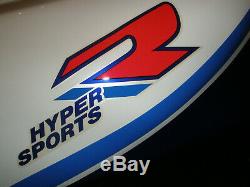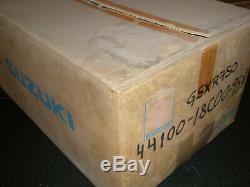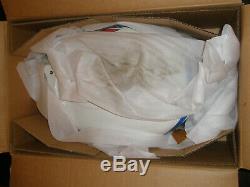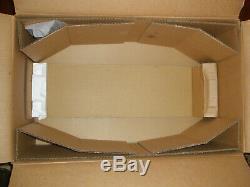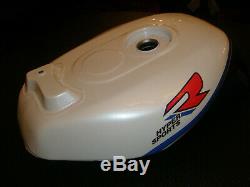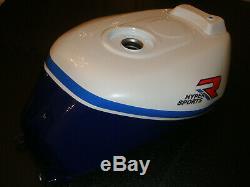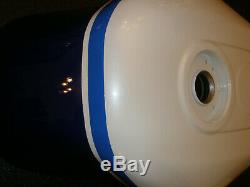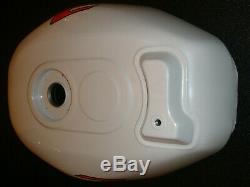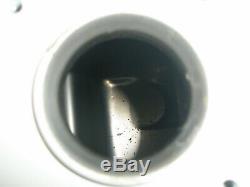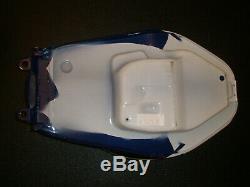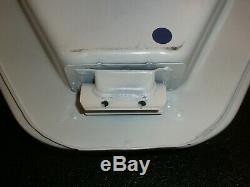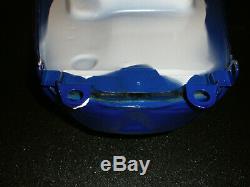 Suzuki 44100-18C00-9SR is a fuel tank for the GSX-R750 model year 1989/K. 9SR colour code refers to codes 22R+33N / Pearl Cool White + Marble Parsec Blue. About the item condition, etc. NOS (New Old Stock), kept all these years in a Suzuki shop in my city, before reaching my hands. Suzuki stamp with part number has eroded long time ago (as usual in old NOS boxes), but someone marked the box with the part number; anyway, please check if colours/decals/letterings (where applicable) match your bike.
Note that when wrapping is disturbed, I usually do a quick cleaning of tank's exterior (light dust is present, and I need to inspect item and take good pics); I spend lot's of time examining my tanks, for accurate descriptions and photos! The usual sticker covering/sealing tank's "mouth" is missing; my experience with these situations (not rare, someone in the factory forgot it) is that tank gets a little dustier inside actually - see pic- it seems that the protection oil inside catch a couple of paper worms...
; bottom's opening is still factory sealed! Item is in mint condition paint all shiny, no abrasion markings, no scratches, no dents, no moisture damage...
; it's flawless , perfect, no defects, as it leaved the factory 30 years ago... In the inside the tank is as good as it gets something is definitely not rotten in the state of Denmark! Note that fuel tanks used to leave the factory with some oil/protection brown liquid; in some spots it accumulates and seems rust at 1. Grab a brand new fuel tank for spare for your GSX-R750, while you still can.
Are you restoring your bike to its former glory, using your decrepit tank? That should be a last resort solution only! Fighting the inevitable incrustations and corrosion inside requires special kits which are expensive e. Restom kits and needs a significant amount of time and effort to apply, with some uncertainty in the long run been there, done that; will the epoxy endure time, or will it eventually dissolves and nasty stuff goes to the carburetors? The perfect paint job, with 100% matching colours and 0 defects, is almost impossible to get (been there, done that, and I work with the best painter in my city). Can you still get the original Suzuki stickers? Or make a perfect replica of those? Unless, your old tank paint is OK and only the interior needs refurbishing?
Because it takes only one drop of the acid of the "kits" to damage the paint, in no time (too easy to happen).. I know this is standard talk in all my fuel tank advertisements, but I know by experience the trouble of recovering old rusty tanks; I have a Restom kit to apply in 3 old tanks from my personal bikes under restoration, and I'm not looking forward to do the nasty job...
Private sales Im not a company, just an enthusiast of Suzuki old bikes, having a significant stock of Suzuki NOS parts for late'80s and early'90s bikes. Original box shall be put inside another box 160 liter / 80x50x40 cm i. Not applicable to EU countries, naturally... Citizens from UK: hurry with your whish lists from abroad, since Brexit will come soon - not good news for the trading business. It must arrive at my home in the same condition. Price factor half price of new? The item "Suzuki GSX-R750 1989 tank 44100-18C00-9SR NOS" is in sale since Friday, April 5, 2019. This item is in the category "Auto, moto - pices, accessoires\Moto\ pièces détachées\Prise d'air, débit carburant\Réservoirs à essence". The seller is "antoniomota1971" and is located in Aveiro. This item can be shipped to European Union member countries.
Numéro de pièce fabricant: 44100-18C00-9SR
Marque: Suzuki